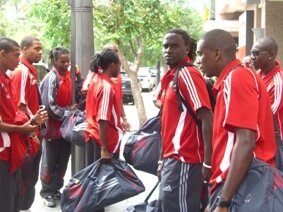 Interim head coach of the Trinidad and Tobago Senior Team Francisco Maturana will join his new National Team contingent in San Juan Puerto Rico on Friday and is expected to be part of the team's evening training session on the eve of their friendly international against Puerto Rico.

Maturana, arrived in Port of Spain on Thursday before being scheduled to depart for San Juan on Friday morning. The rest of the T&T squad, led by assistant coach Anton Corneal and manager David Muhammad arrived in sunny San Juan just after midday following an early morning departure from Piarco.

The team checked in at the Radisson Plaza Hotel before Corneal conducted a light session at 6pm that evening.

Click for Video of team's first session in P.Rico


The 18-man squad arrived in good spirits with captain Trent Noel leading the pack which includes a few regular faces from the T&T Pro League who have had international experience over the past 12 months. Chicago Fire defender Osei Telesford is also here while Charleston Battery striker Andre Toussaint along with young defender Kern Cupid and Nickelson Thomas have experience the game in Puerto Rico while on duty with W Connection. Toussaint also finally obtained his US Work this month permit and avoided any possible problems with US Immigration upon entering Puerto Rico, contrary to prior travels with the national team into US territory.

Jabloteh striker Cornel Glen was not considered for the trip, having left for England on the weekend and is currently on trial with Leeds United.

Corneal added that he was eager to observe Maturana's operations with the team, as his decision to be present for the game put a new spin on the trip.

"It's put a different spin on it and it's definitely a positive one. It's a situation now where we have our head coach beginning his tenure with a national team away from home so there will be various points on this trip which hold a lot of significance," Corneal told TTFF Media on Thursday.


"I am looking forward to his presence here because as a coach holding the position that I am at the moment, it is again a learning experience and he (Maturana) has already signaled his intentions to work along with the present staff members. I am quite sure too that the players will see it as a way to get to know the coach and to have him know them a little bit earlier than we had expected," Corneal added. Maturana was originally slated to take up duties from February 1 leading up to the friendly against Guadeloupe at the Queen's Park Oval on February 6.

Striker Anthony Wolfe, the only player in the current team from the squad that went to the Germany 2006 World Cup, is pushing for a start and a chance to make an early impression on Maturana.

"I think I'm fortunate to be able to get back into the squad in time for this game and I intend to make good use of it. I hope I can maybe be among the scorers and leave a good first impression on the coach. All the players will be hoping to do the same,"Wolfe added.

Puerto Rico, coached by Northern Ireland-born Colin Clarke, are coming off consecutive victories over Bermuda last week. They also have four players from American A-League outfit Puerto Rico Islanders. Saturday's game kicks off at 8pm. (Jan 24, 2008.Photo shows team on arrival in San Juan)