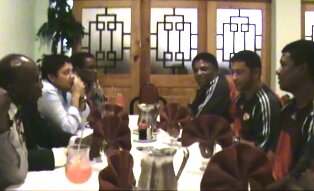 Trinidad and Tobago Football Federation's head of

youth development and Senior Team Assistant coach Anton Corneal along with his staff will continue embarking on a scouting mission for youth players to represent this country in international competitions.

Corneal said on Wednesday that particularly in the rural areas of T&T, sessions will be set up at venues of which the public will be advised accordingly over the coming weeks.

Immediately, players born in 1992 will be looked at with an aim to forming a National Under 17 team to go into qualifying action for the 2009 FIFA Under 17 World Championship. Currently there is an Under 20 and Under 16 team in training but Corneal stressed the importance of continuing the search for upcoming talent.

"We will be looking for players who are eligible and possess that ability to make it into a national team and represent the country at an international level. Of course there are always players who might be known out of the clubs, schools or overseas colleges, but there is always the possibility of players lurking around somewhere out there, particularly in the rural areas and our aim is to continue to capitalize on these opportunities," Corneal told TTFF Media.

The likes of T&T National Under 17 captain Leston Paul and defender Daneil Cyrus, recently drafted into the Senior Team were both discovered by the national coaching staff by way of scouting sessions.

"Leston came out of Mayaro, we found Brenton Balbosa in Biche and then we discovered Daneil Cyrus in Tobago and these are all players who have what it takes to go further in the game. Even if it results in finding one player on a scouting trip then it would be beneficial," Corneal added.

"There are several other players, now senior, who were discovered similarly. From the likes of Kenwyne Jones with the Under 17s in 2001 among others both coming through the ranks and going on make a career for themselves."

The TTFF is also continuing its invitation to players based or born outside of T&T who may have connections to the country by means of parents or grandparents. There continues to be players in contact based in the UK and USA. The TTFF will also soon set up an advisory in the UK.

"We have had a lot of interest from players who are based in England and the USA who might have a Trinidad parent or grand parent and it is always worth the look to see how they can fit in and contribute to our program. We will continue to monitor this and other possibilities as they come along," Corneal stated.

Several matters relating to the scouting venture and the other related matters were discussed on Wednesday at a meeting at which Special Advisor Jack Warner, General Secretary Richard Groden, Senior Team head coach Francisco Maturana, Corneal and other members of staff were present.

It was also confirmed that a T&T National Under 20 and Under 17 teams will travel to the USA for a training camp in April. Both teams are expected to engage in training matches. The T&T U17 team will play High Point University and the U20s will face Wake Forest University on April 10.

Interested players, particularly those based outside of T&T can contact the TTFF at , or phone the TTFF Headquarters at 623 7312.