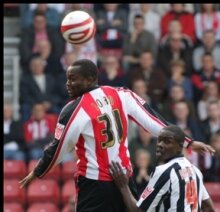 Striker Stern John continues to bang in the goals for Southampton as he helped them to a 1-1 draw with Ipswich Town in the Championship Division on Saturday. Now he seems contented with turning up for the national team just when head coach Francisco Maturana sees it fit to have him in the plans.

John is now second on the list of goalscorers in the English Championship Division. The former Coventry man notched his 14th goal of the season on Saturday when he put Southampton ahead in the 51st minute against Ipswich Town, beating two defenders before slotting home.
The goal wasn't enough though as his team had to settle for a 1-1 draw with Ipswich Town before 23,000 fans.

John is on a high now being second on the scorers list in the League behind West Brom's Kevin Phillips (16 goals) with Jamaican Ricardo Fuller of Stoke City and Crystal Palace's Clinton Morrison also on fourteen strikes.
"I'm enjoying my football and I think my form is pretty good at the moment but we are not getting the results that we need at the moment," John said n Saturday after the goalscoring performance.

"The other teams will catch up and we don't want to be battling to avoid relegation. The new manager (Nigel Pearson) has not come here with too much of experience but I think his organization is great and he is preparing the team in way which is making us hard to be beaten. But we are not holding off for the win and we need to find a way around that," John told TTFF Media.

"When I came to Southampton I felt there was a good chance of promotion but now we are facing a different battle but I've been in this League for a few years and I'm not counting anything out. In a couple weeks everything can be turned around. I'm just glad that my form is good at the moment and hopefully I can get a few goals more before the season ends."


On the international side, John said it is important that Maturana has a wide selection to choose from.

"I think it especially important for the players outside to be playing and in good touch because the coach has to be able to make the right decision and he must have options to do that. I'm always one for progress and I want to be part of it. But if it means that he has to continue looking at players then so be it. I will be available for the important games once they need me and there are some games which some of the other players can get a chance to show their worth and try to also help the team on the road to the next World Cup in South Africa," John added.

"I think we have a very good strike force with Kenwyne, Scotty (Jason Scotland), young Darryl) Roberts and a host of others and that's always a plus but you see there were a lot of young faces in the Guadeloupe game and that is understandable. The only thing is that it may seem we are a little bit behind time but I think with the right planning and approach we will get it right in good time. I'm not worried about that," John said. T&T faces El Salvador and Jamaica in two friendlies on March 19 and 26 and looks ahead to the start of the 2010 qualifying campaign with a second round tie in June against Bermuda/Cayman Islands.
Looking forward to 2010

"I'm definitely looking forward to being part of 2010. Deep down inside I feel we have a good a chance as any and I want to be part of it. Hopefully we can qualify again… it will not be easy. I don't want us to have to go to the playoffs.

"We know what it takes but we also need to groom the younger players with experienced ones like myself, Ince, Carlos and these guys. Then it would be fantastic to have guys like 'Doggy' (Marvin Andrews) and Dennis Lawrence around.. There's no point discarding these players because look what Dwight and Russell did for us last time around. Yes they played a major part and they were great players but we don't have the depth in Trinidad yet to be able to discarding these sort of players who have been through it all before. It could only be well for us and it's up to them if they want to come back and it's the coach's decision to call them," John added.