It is said that Fans and Supporters are the living and breathing representation - the heart and soul - of sports, in this case football - and the lifeblood of a sporting organization. And there's there's one man, now living in the United States who is possibly one of the most passionate about Trinidad and Tobago's football. But not only is he a man who calls himself a fan but he's one who puts in a lot of time and effort towards trying to contribute to increasing the awareness of the local game . He is Inshan "Flex" Mohammed, the main man behind the socawarriors.net website, the biggest T&T sporting supporters website and one of the more interactive ones in the Concacaf region, easily compared to that of BigSoccer.com.
Read more...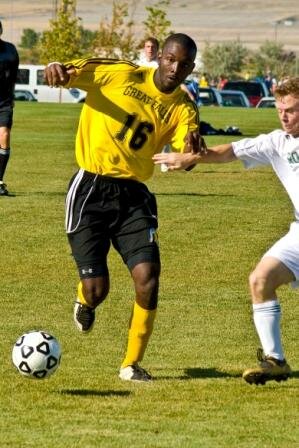 Former National Under 17 captain Ryan O'Neil (in photo) has been named in t

he

National Association of Intercollegiate Athletics

(NAIA) 2010 Men's Soccer All-America Teams, as selected by the NAIA Men's Soccer All-America Selection Committee. There are three teams in addition to an honorable mention list.
Read more...
The Trinidad and Tobago Football Federation Executive Committee met for their final meeting of 2010 at the Federation's headquarters on Dundonald Street, Port of Spain on Friday afternoon.
Read more...
Jack Austin Warner has been nominated unopposed for the presidency of the Caribbean Football Union.This means, Mr. Warner will be elected for the 8th consecutive term as President of the region's governing body of football. All remaining incumbent members of the Executive Committee have also been nominated unchallenged in their current capacities.

Nominations for posts within the Executive Committee of the Caribbean Football Union (CFU) closed at 4pm on Monday December 20th, 2010 (yesterday).In a demonstration of the ongoing stability and unity within the Caribbean Football Union that has characterized his Presidency, Warner received multiple nominations from the CFU's diverse membership of 30 nations.

Warner, who has served as the President of the CFU since its inception in 1982, has described the development as both "humbling and invigorating." In accepting the nomination, Warner said, "I am humbled today by the trust bestowed upon me by my Caribbean brothers and sisters; this trust that you my family has placed upon me has invigorated my spirit and my soul to continue to serve you to the best of my ability. For over 40 years of my life I have served this sport but I cannot and I will never personalize the sequence of events. I now bear with the other members of this Executive Committee the task of implementing the mandate set by you the members of this great and promising Union."

Continuing Warner stated that "we are a young institution and our environment is dynamic but our dreams and our visions have remained the same. Our Union has risen above numerous challenges, we have braved the storms, we have sailed on sometimes uncertain seas but our commitment to a vision of improving Caribbean Football remains our compass. It is this commitment that is our beacon which shines through the mists of ambiguity and allows up to guide our ship to a brighter and better tomorrow. While we are still confronted by numerous challenges, our capacity and our love for the sport have remained undaunted. The time has come to reaffirm our enduring spirit; to choose our better future ; to carry forward the principles of our sport, that all are equal, all are free, and together this team, which is not only the members of this Committee, but this team made up of every member of every Federation will work hand in hand to a better tomorrow."

He also reaffirmed his commitment to the task at hand by saying "we embark on a journey for the next four years the task ahead of us is challenging and we the members of this Committee need all hands on deck, all talent, all wisdom, each and everyone must take an active part in guiding our Union to a better tomorrow. We must never allow the seeds of separation to germinate within our family. It's time to build a future together which we can all share, hold pride in and I look forward to once again working with every member as we embark on yet another chapter of the great book of the Caribbean Football Union." (Dec 19,2010)


Nominations for CFU Executive Positions

In addition to Mr. Warner, the nominations for the upcoming CFU elections are;

1st Vice President, Capt. Horace Burrell, President of the Jamaican Football Federation;
2nd Vice President, Mr. Colin Klass, President of the Guyana Football Federation

CFU Executive Committee Members Mr. Victor Daniel, General Secretary of the Grenada Football Association; Mr. Luis Hernandez, President of the Cuban Football Association, Mr. Yves Jean Bart, President of the Haitian Football Federation and Mr. Lionel Haven, General Secretary of the Bahamas Football Association.


The Trinidad & Tobago Football Federation through its Technical Adviser Keith Look Loy has finalized an agreement with the Royal Dutch Football Association (KNVB) which will see some of this country's coaches being certified according to Dutch and UEFA(European Football Union) standards.

Read more...
<< Start
< Previous
1
2
3
4
5
6
7
8
9
10
Next >
End >>