Swansea recovered from an early Arturo Lupoli goal to stun struggling Norwich.

Mark Fotheringham set Lupoli up for a low 12-yard shot, before sweet build-up from Jordi Gomez and Angel Rangel saw Jason Scotland equalise from close in.

Two quick goals after the break sealed Norwich's fate, Darren Pratley firmly heading in Gomez's corner.

Gomez assisted again to set Ferrie Bodde up from six yards, before Mark Fotheringham made the consolation, his shot deflecting in off Angel Rangel.

Swansea manager Roberto Martinez:
"In football everyone must have a dream and ours is to play in the Premier League.

"But it could take us five years or even 10 years to achieve.

"Expectation levels are always very high in south Wales, but at the moment all we are trying to do is to consolidate at this level.

"Obviously I am very happy with the number of points we have won so far but our aim this season is to stay in this division.

"There are six or seven players here who have the ability to play in the Premier League, but at the moment we have still got to prove that we can compete week in, week out at this level.

"It was a big thing for us to come to a place like Norwich and get a result like this.

"This is the first time we have come to a Premier League environment and been ourselves, played the way we can and picked up the three points we deserved. It's a big step forward for us, a big moment." (Nov 15,2008)

A 17th minute goal by striker Jerrel Britto gave Trinidad and Tobago's National Under 16 team a 1-0 victory over St Benedict's Prep and third place in the Newark International Cup in New Jersey on Sunday.

T&T, on the back of a 4-1 loss to Chelsea's Youth Team on Wednesday and a 7-0 loss to Mexico National Under 18 team on Saturday, bounced back with a convincing performance to beat the host team. The Mexican's received a four-goal effort from Jorge Armando Mora Guzmán to raise its record to 3-0 in the tournament in the win over T&T. The Central Americans the finished the tournament with a 1-0 win over Chelsea on Sunday.

STEP IN STYLE LIKE YOUR TEAM
... GET YOUR NEW SOCA WARRIORS SHIRTS


Read more...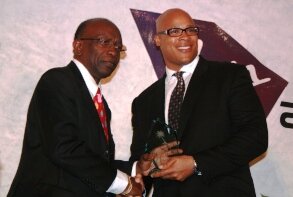 FIFA Vice President Jack Warner walked away with the "Top Administrator of the Region" award at the inaugural Caribbean Awards Sports Icons (CASI) Ceremony and Dinner at the Pegasus Hotel in Kingston on Friday night.

Warner, for his outstanding service towards the development of football in the region was a nominee at the event which was founded by Jamaican Al Hamilton . There were several other awards for outstanding performers over the years in the various disciplines.

Trinidad and Tobago batting star Brian Lara was edged out by Sir Garfield Sobers for the "Best Cricketer" award based on performance over the past sixty years. The other nominees in that category were Courtney Walsh, Sir Vivian Richards, Michael Holding and Clive Lloyd CBE.

Dwight Yorke was also a nominee for the "Top Footballer" award which was given to Jamaica 's Lindy Delapenha. He was Jamaica 's first player to play professionally in England with Portsmouth and Middlesbrough , scoring 93 goals in 270 appearances. Delapenha, now 81, was classed as one of the first non-white players to play in the English First Division and graciously accepted the award on the night. The other nominees in that category were Jamaicans Theodore Whitmore and Robbie Earle but there were questions asked by enthusiasts in the audience as to how come Russell Latapy was not nominated to which organizers later said would be a possibility in the future as they intend to honour regional icons on an annual basis.

The Other Trinidadian to cop an award on the night was Jennifer Frank, taking the "Top Female Netballer" award for her exploits in the 1970s and 80s.

Trinidadian boxers Claude Noel and Leslie Stewart were among the boxing nominees but Jamaican Mike McCallum took the accolade while Cuban Alberto Juantoreno took the 'Best Male Athlete" award ahead of Hasely Crawford , Jamaica 's Donald Quarrie, Bahamas ' Avard Moncur and Jamaica 's Bert Cameron. Juantoren won gold medals in both the 400- and 800-metre races at the 1976 Olympics in Montreal , becoming the first athlete to win both races in one Olympics.

Sprint sensation Usain Bolt was not a nominee because of the length of his career thus far but the world's fastest man and Shelly-Ann Fraser were specially recognized for their outstanding achievements in Beijing .

Jamaican Veronica Campbell-Brown took home the "Best Female Athlete" award.

On receiving the award, Warner, who arrived from New York during the ceremony, said he felt honoured over it.

"In many ways I feel gratified for being given this award. I am gratified because I come from a country where awards of this nature, at least for me, are non existent. I feel then that it's fitting that Jamaica is the host of this event. I always admire Jamaica and I refer to it as my second country if only because Jamaica gives respect to its sport heroes and sees sport as a way to promote its country in the best possible away. I want to say a special thanks to Al Hamilton for this awards ceremony tonight. And I hope that we can continue this in years to come for the benefit of sports in our region," Warner told the gathering.

Some of the highlights in the Caribbean spanning from 1948-2007 noted at Friday's ceremony including the achievements of Lara, Ato Boldon, the dominance of West Indies in world cricket at a point, and T&T's qualification for the 2006 World Cup in Germany, as well as that of Jamaica in 1998.

Hamilton , mentioned that he intends to take the ceremony to other parts of the region, adding : "The region has produced some of the finest women and men to grace the stadiums of the globe. Sport is the adhesive which unites our region and allows us to to 'WalkTalk' on the international stage. An event of this kind only happens because likeminded persons come together to make a difference. It has been said that we 'Aspire only to Expire'. It therefore follows that while we are alive, we must be the best we can."

Jamaica 's Minister of Sport Olivia 'Babsy' Grange also endorsed the Caribbean awards saying: " Caribbean people have never lacked talent. We have always been able to produce some of the finest and most competitive athletes in the world. How else could you describe stars such as Brian Lara or Courtney Walsh, a Ricardo Gardner or Dwight Yorke, a Usain Bolt, a Veronica Campbell-Brown or Merlene Ottey or a Patricia McDonald or Jennifer Frank. It is my hope that CASI will successfully grow into becoming the catalyst to drive the development of our regional athletes to become the international sports icons we know our people have always been." (Nov 8,2008. Photo/Warner receives his award from Virgin Atlantic representative Collin Skerrit) )

The West Texas AMU University Women's team, coached by Butch Lauffer, former assistant coach to the T&T women's U-17team has just completed yet another successful season with one of Trinidad and Tobago's own Nadia James, performing outstandingly and receiving post-season awards.

Randy Waldrum (former T&T head coach Women's U-17 national team) is also enjoying his customary winning ways at the University of Notre Dame where his team is unbeaten for the season and currently ranked number one in Division 1 competition among 300+ universities.

James was named to the tournament's All Star team.

This along with other developments has left TTFF Technical Director Lincoln Phillips thrilled.

"There are several of our young ladies currently participating in the US Intercollegiate league, which is considered the strongest Women's soccer league in the World (quote from the Mexican National Women's coach, Leo Cuellar). These players are coached by some of the top coaches in women football and are developing rapidly while getting a chance to earn a Bachelor's /Master's degree free of charge," Phillips said.


"As a result of the American connection, our young ladies are acquiring valuable training and international experience which will soon enable our U-20 and the senior national teams to become a power-houses in the CONCACAF. In order to achieve dominance in the CONCACAF region we must adhere to the following:

* Carefully monitor the progress of these young ladies currently playing in the University divisions in the US.
* Continue to open the doors for college scholarships ( incentive to encourage more local girls to embrace and develop a love for the sport) in the US for our younger girls (U-17 and U-15) and,
* Continue to invest in our youth development programs from primary to Secondary schools girls. (Nov 10,2008)


Brent Rahim, known for his appearances for the National Team during the 2002 and 2006 World Cup qualifying campaigns has decided to hang his boots up and enter a new career path.

The player, once attached to English Premiership side West Ham United is now based in England , not like the rest of his overseas-based former teammates but as a student pursuing a masters degree in Sport Management and the Business of Football at the University of London (Birkbeck).



Read more...
<< Start
< Previous
51
52
53
54
55
56
57
Next >
End >>