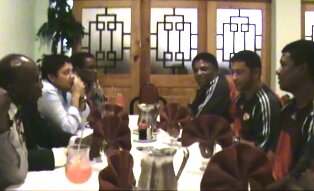 Trinidad and Tobago Football Federation's head of

youth development and Senior Team Assistant coach Anton Corneal along with his staff will continue embarking on a scouting mission for youth players to represent this country in international competitions.

Corneal said on Wednesday that particularly in the rural areas of T&T, sessions will be set up at venues of which the public will be advised accordingly over the coming weeks.
Read more...
National team midfielder Aurtis Whitley is confident that he will fit into Francisco Maturana's plans for this country's upcoming international programme.

At least the W Connection and T&T 2006 World Cup team member says he's motivated again and willing to do what is necessary to regain a regular starting role in the team.

Whitley has been present at every training session this month since being recalled to the team that is preparing for upcoming friendly internationals against El Salvador at home on March 19 and Jamaica in Kingston on March 26.




Read more...
Trinidad and Tobago Football Federation Special Advisor Jack Warner says he expects Leston Paul to make maximum use of his one-week stay at Sunderland next month and is backing the little midfielder to bring back all the benefits to the local set up.
Warner said he remembered the days when the chance for any footballer to even step foot in Europe on any football venture was looked at as a once in a lifetime opportunity which came on the odd occasion for the region. But now it has turned into a much more regular occurrence and is set to take off even further.
Read more...
FIFA Vice President Jack Warner was given the assurance on Saturday that the just concluded Digicel Kickstart clinic which provided the opportunity for Caribbean talent to go on show in the United Kingdom will by no means be a one off.


Warner, in his address at the press conference to announce the eight selected players for a one-week training camp at the Sunderland Academy of Light, said he was anticipating
Read more...
<< Start
< Previous
1
2
3
4
5
6
7
8
9
10
Next >
End >>