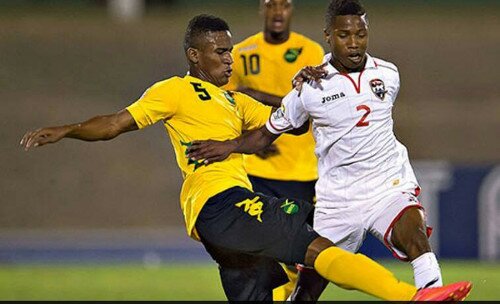 Trinidad and Tobago Men's Under 20 Team captain Shannon Gomez is still trying to pull himself together from the disappointing of this country's failure in their quest to qualify for the 2015 FIFA Under 20 World Cup in New Zealand.

Gomez and the rest of the returned home on Thursday night from Montego Bay where they lost their final group match, 1-0 to the United States, at the CONCACAF Under 20 Championship. The result meant T&T were booted out of the tournament with Panama qualifying for the World Cup and the US and Guatemala advancing to the playoffs.

Gomez made a call for the current bunch to be kept in training for future outings.

"I would really like for this Under 20 bunch to be kept together and training, if not as a team right through, at least for us to be part of a consistent program," Gomez told TTFA Media.

"We have the Under 23 Olympic Games qualification to look forward to as well as the Pan American Games. This will be a good opportunity for us to continue as a team going forward."

He noted some of the positives for the team coming away from this tourney, crediting his teammates for their wiliness to play down to the wire.

"We had a fight in us to keep playing and not give up. We went out in every game and give our all for country. We felt like we were the better team in some of our games but we failed to take our scoring chances and it hurt us. It was very disappointing for all of us that we worked our socks off and the results didn't go our way.

"We were left heartbroken and disappointed but with some hope. What I think will do well for us is proper all round team preparation, more financing and support. These things will factor in our general readiness for international competition," Gomez added.