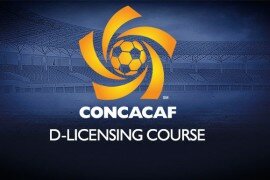 The Trinidad and Tobago Football Association will welcome thirty participants at its head offices at the Hasely Crawford Stadium on Thursday morning for the start of the CONCACAF "D" License Coaching Course.

The objective of the course is to introduce coaches to the basics of coaching young players in a player-centred environment. The course will run for four days with the target group being coaches of players aged to 6-12 years old. Persons in this group include coaches, parents and teachers.

Among the topics of the course are the role of the coach educator; Principles of Coaching; Principles of the Game; Age Appropriate training; Session training; Physical training; Small sided games; Goalkeeping; Health and Safety and Community Club development.

The course will be conduced by CONCACAF instructors Lenny Lake and Andre Waugh and CONCACAF Development manager Jonathan Martinez will also be present.

The TTFA accepted application from members of the public before the final selection process was completed on Wednesday.

Among those who will participate include National Women's Team players Maylee Attin-Johnson, Dernelle Mascal, Ayana Russell, Jinelle Nedd and Ahkeela Mollon, ex-National Men's team players Hector Sam, Marvin Oliver, Kerry Baptiste, Justin Latapy and Nicholas Griffith, coach of FIFA award recipient club Crown Trace.

TTFA President Raymond Tim Kee expressed his delight on the fact that the TTFA, through the collaboration with CONCACAF would be able to offer coaching education to ex-national players as well as upcoming coaches from the different levels of local football.

"I am quite impressed and might I say extremely pleased to see some of our former national men's players and our Women Warriors listed among the participants who have been accepted to take part in this course. What this shows is there is a desire to acquire knowledge and this augers well for our football development," Tim Kee said.
"But aside from those who would have already had the opportunity to represent the country, the TTFA is also pleased to be able to offer similar opportunities for other aspiring coaches who possess that desire to work in local football at the community or grassroots level, at the primary schools, the smaller clubs and so on. The Association is looking forward to ensuring that the work is continued from the past where we had already introduced our 'D' and 'C' license coaching courses and hopefully this will bring more benefits to our development efforts," he added.