This country's Senior Women's team will depart for Dallas, United States at 3pm on Tuesday for a training camp ahead of the opening CONCACAF Final Round fixture against the United States on October 15th.

Head Coach Randy Waldrum announced his 20-member squad of which seven players will meet rest of the team in Dallas following the arrival of the group traveling out of Port of Spain.

Ten players and one staff member were all granted their US travel visas today.

The Ministry of Sport has provided financial support which will cover costs for the training camp in Dallas which runs until October 13th, as well as other allowances and team related expenses. Petrotrin, which also provided its Beach Camp facility in Palo Seco for a previous training camp, has also come forward to support the team with the provision of casual wear and $75,000 which assisted in the visa payments for the players.

TTFA President Raymond Tim Kee expressed his gratitude for the support.

"I speak on behalf of the TTFA and the local football fraternity in saying how extremely grateful for the unwavering support of the Ministry of Sport, the Sportt Company and Petrotrin in ensuring our National Women's team received the necessary assistance ahead of their qualifying tournament in the United States," Tim Kee said.

"There was some unfinished business over the past few days but we are quite pleased to say now that things have been looked after and there is an ongoing process to ensure that the team will have the right conditions heading into the tournament. I want to wish them the very best in what will be an extremely difficult opening match against the United States, a world giant in women's football but I expect them to give it their best and I am optimistic of the team's chances in progressing out of the group and into the World Cup," he added.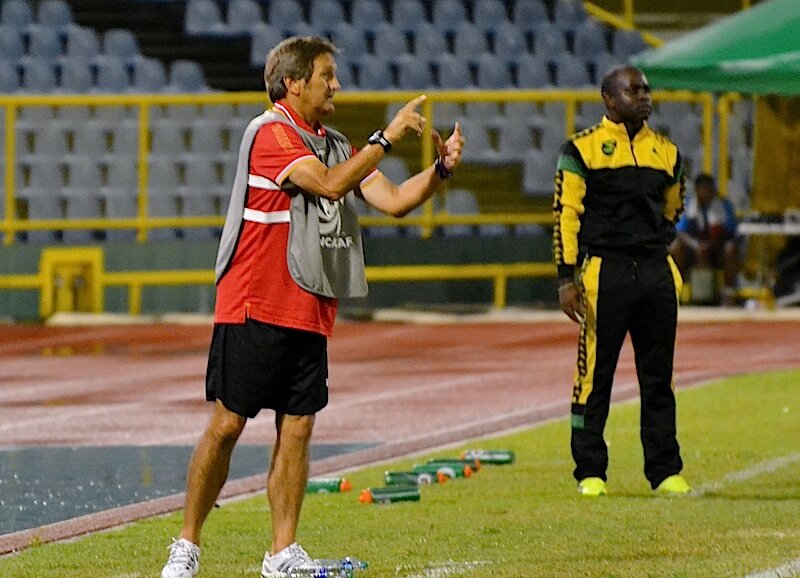 Team head coach Randy Waldrum was also confident in the selection of his squad.

"I'm really excited about our squad of twenty. I think this group gives us the best opportunity to advance in the Concacaf tournament at this moment, and I look forward to the next few days with them in preparation for our opening game versus the US in Kansas City," Waldrum told TTFA Media.

" We have a very good blend of talent, experience, and desire within this squad, and I know they will represent Trinidad & Tobago to the absolute best of their ability. The players have been extremely excited about this opportunity that lies before them," he said.

Additional details on the training camp will be forthcoming.


T&T Final 20-player Roster

TRINIDAD AND TOBAGO

Uniform #

Name

Last Name

DOB (DD-MMM-YY)

9

Maylee

Attin Johnson

09-May-86

19

Kennya

Cordner

11-Nov-88

10

Tasha

ST Louis

20-Dec-83

14

Karyn

Forbes

27-Aug-91

1

Kimika

Forbes

26-Aug-90

4

Rhea

Belgrave

19-Jul-91

11

Janine

Francois

01-Jan-89

5

Arin

King

08-Feb-91

7

Dernelle

Mascall

20-Oct-88

8

Afiyah

Matthias

20-Mar-92

3

Mariah

Shade

09-Dec-91

18

Khadisha

Debessette

06-Jan-95

6

Khadidra

Debessette

06-Jan-95

2

Ayanna

Russell

16-Mar-88

2o

Lauryn

Hutchinson

06-Dec-91

21

Tinesha

Palmer

16-Sep-94

12

Ahkeela

Mollon

02-Apr-95

13

Danielle

Blair

16-Jun-88

15

Liana

Hinds

23-Feb-95

16

Brianna

Ryce

25-Jan-94