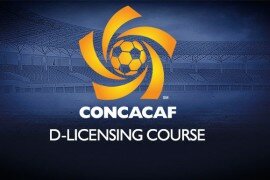 A chance to upgrade your coaching skill

The Trinidad and Tobago Football Association will host a CONCACAF 'D" License Coaching Course from March 19th -21st.

The objective of the course is to introduce coaches to the basics of coaching young players in a player-centred environment. The course will run for four days (at a venue to be announced) with the target group being coaches of players aged to 6-12 years old. Persons in this group can include coaches, parents and teachers.

Among the topics of the course are the role of the coach educator; Principles of Coaching; Principles of the Game; Age Appropriate training; Session training; Physical training; Small sided games; Goalkeeping; Health and Safety and Community Club development.

The course will be conduced by CONCACAF instructors Lenny Lake and Andre Waugh and CONCACAF Development manager Jonathan Martinez will also be present.

There are limited places available and the TTFA is offering the opportunity to local coaches to have a chance to be among the course participants. All interested persons are asked to submit their resumes with background information to This e-mail address is being protected from spambots. You need JavaScript enabled to view it or This e-mail address is being protected from spambots. You need JavaScript enabled to view it from which the final list of participants will be selected to partake in the course. Applications can also be dropped off at the TTFA offices, Hasely Crawford Stadium by Monday March 15th, 2015.


TTFA President Raymond Tim Kee described the opportunity for local coaches to benefit from this exercise as timely and essential for local football development.

"I think this is timely and one that will allow many of our local coaches who have been craving such an opportunity to get involved and expand their knowledge on coaching at the youth level. This fosters an energized and improving learning environment for our coaches and youngsters," Tim Kee told TTFA Media.

"We are delighted to be able to have this medium for our aspiring local coaches in football and I hope it goes a long way as part of our development process," he added.
Course Background

The Confederation of North, Central America and Caribbean Association Football (CONCACAF) launched its first D License coaching course in Mexico City, serving to reinforce the governing body's vision and commitment to education, so that the standard of the game can be raised throughout the region. It is CONCACAF's first official licensing program for coaches and it will establish the foundation for the future proliferation of a comprehensive educational curriculum.

"This first CONCACAF D License course represents yet another milestone in the development of the Confederation," said CONCACAF President Jeffrey Webb to the 28 participants from the Spanish speaking Member Associations present at the inaugural ceremony. "It is our duty to educate the educators in order to unveil the true talent within each player.

The new licensing system, designed and executed by CONCACAF's Development Office and funded by the Confederation as part of its on-going commitment to the growth of the sport, will provide coaches from across the region with a valuable, internationally recognized license, as well as the tools to impart that knowledge at the local level.