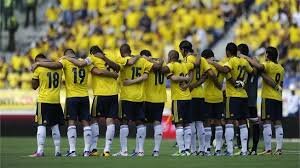 Trinidad and Tobago will face yet another World Cup bound team in a friendly international in Buenos Aires.

The Trinidad and Tobago Football Association today finalized a match against Colombia scheduled for June 1st in Buenos Aires.
The match will precede T&T's friendly with Argentina in La Plata on June 4th and Iran in Sao Paolo on June 8th.

TTFA President Raymond Tim Kee was elated about the matches on the cards for the "Warriors."



"This is by every means our World Cup group and I think it's speaks volumes of our ability as a country and as an association to line up matches of this caliber against three world class opponents," Tim Kee told TTFA Media.

"The last time our country had such a schedule would have been in our build up to the 2006 World Cup where we played Czech Republic which was ranked number two in the world at the time. Now we will face potentially one of the World Cup favorites and another in Colombia who are traditionally a powerhouse in South America. Then you have Iran which is the top ranked team from Asia," Tim Kee added.

TTFA General Secretary Sheldon Phillips, who has been instrumental in arranging the matches, said the line up of games would go a long way in Stephen Hart's preparations for the upcoming Caribbean Cup and subsequently the Concacaf Gold Cup and 2018 World Cup campaign.

"Some may see it as a risk with us playing three World Cup teams but we believe ideally this is what we need in terms of quality opponents for our preparations. We want to be able to compete with the best teams around and this has all the ingredients attached to it,"Phillips said, also crediting the Ministry of Sport and Sportt for their ongoing support towards the National Teams.

Photo above shows Raymond Tim Kee (right) and Sheldon Phillips.

"We want to give our national teams and players the best opportunities possible when it comes to preparations and experience. We think it says something about where we are heading with these teams giving us the opportunity to rub shoulders and to take them on over 90 minutes just prior to the World Cup."

Hart is expected to announce his squad for the three games in May and the TTFA will announce further details on the options for fans to witness the games over the next two weeks.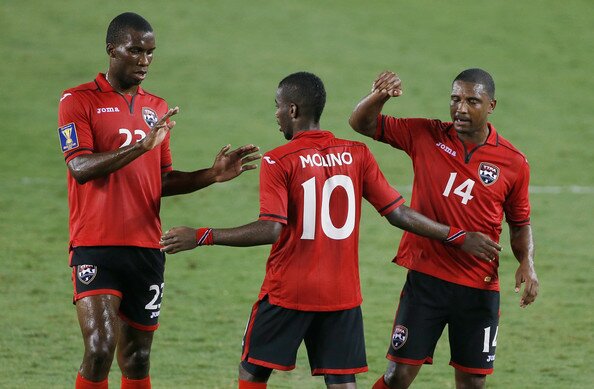 Colombia, coached by Argentine Jose Peckerman is still hoping it will be able to count on striker Radamel Falcao when it plays in the World Cup for the first time in 16 years.
Falcao has been working hard to recover from a knee injury that has put his participation in doubt. If he doesn't heal by the time the World Cup arrives, it will be up to 22-year-old James Rodriguez, Falcao's teammate at Monaco, to carry the hopes of Colombian fans.

With or without Falcao, Colombia has a solid squad that cruised through South American qualifying, finishing second only to Argentina in the nine-team group. Its defense was the best in the region, led by veteran Mario Yepes.

-end-