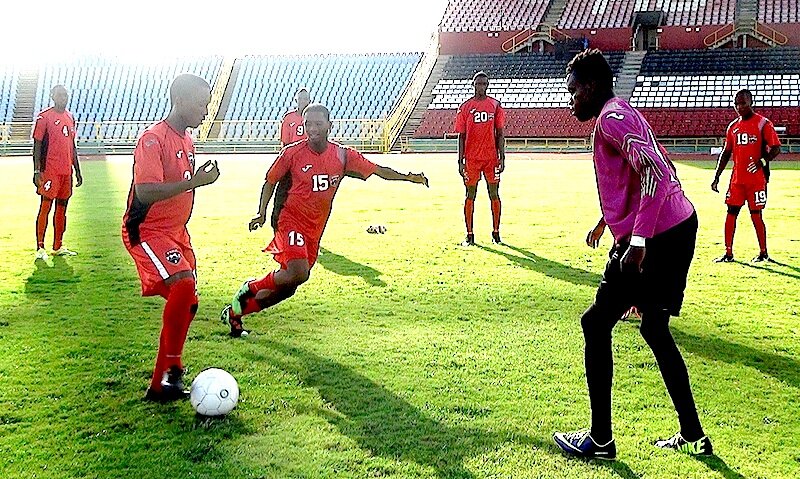 Trinidad and Tobago's final squad for the CONCACAF Final Round of World Cup Qualification was finalized by head coach Derek King and the technical staff on Friday as the team prepares to head off to Miami for a training camp on New Year's Day.
The 20-man squad will be captained by Shannon Gomez and includes several of the regulars from the Caribbean Championship which T&T captured earlier this year. But there is some additional experience coming into the fray with previous Under 20 team captain Duane Muckette returning to the line up and former Under 17 members Lelan Archer and Brendon Creed also making the cut.

US-based forward Ricardo John is also on the roster following an impressive season for Virginia Tech.

"We've kept the majority of the squad from the Caribbean tournament because not only have they proven their worth but they've also earned their places in the preparations for the final tournament," King told TTFA Media.

"All in all the squad is a balanced one and we'll continue to work on our game and fine tune what we need to over the next few days during the camp before we head into the tournament,"King added.

The Ministry of Sport and SPORTT have maintained their support for national teams and are covering expenses for the CONCACAF tournament.

T&T's first training match will be against the Kendall Soccer Coalition team of the US Soccer Development Academy at the St Thomas University Ground on January 3 at 3pm. T&T's second game will be played against the Weston Soccer Club at Weston at 7pm on January 5th. T&T may get a third warm up against the Canada National Under 20 Team before jetting off to Kingston on January 7th.

T&T will open the CONCACAF Final Round of Qualification against hosts Jamaica in Kingston on January 9th. The Junior "Soca Warriors" are in Group A along with Jamaica, Aruba, Panama, the United States and Guatemala. Group B includes Haiti, Canada, Mexico, Cuba, Honduras and El Salvador, in order of position drawn. 

The tournament will crown the Confederation champion at this age level, and qualify four teams to the FIFA Under-20 World Cup New Zealand 2015.

The top team from each group after round-robin play advances to the World Cup, and the second and third place nations from each group advance to the final day knockout phase, with the chance to dispute one of a pair of play-in matches which will determine CONCACAF's other two World Cup spots, as stated by CONCACAF.


| | | | | | |
| --- | --- | --- | --- | --- | --- |
| Number | First Name | Surname | Date of Birth | Team | Position |
| 1 | Johan Jullian | Welch | 04-Jan-97 | Houston Dynamo Academy | Goalkeeper |
| 2 | Jovan Jerrod | Sample | 13-Apr-95 | Central FC | Goalkeeper |
| 3 | Martieon Clyde | Watson | 13-Oct-96 | W Connection | Defender |
| 4 | Brendon Nicholas | Creed | 10-Dec-96 | Temple Universoty | Midfielder |
| 5 | Jesus Angelo | Perez | 11-Sep-95 | North East Stars | Defender |
| 6 | Shannon Jurmark | Gomez | 05-Oct-96 | W Connection | Defender |
| 7 | Maurice Phillip | Ford | 06-Sep-96 | W Connection | Defender |
| 8 | Leland Douglas | Archer | 08-Jan-96 | College of Charleston | Defender |
| 9 | Aikim Rodney | Andrews | 20-Jun-96 | W Connection | Midfielder |
| 10 | Akeem Ancil | Garcia | 11-Sep-96 | W Connection | Midfielder |
| 11 | Levi Ancil | Garcia | 20-Nov-97 | Central FC | Midfielder |
| 12 | Jabari Anthony | Mitchell | 01-May-97 | W Connection | Midfielder |
| 13 | Kevon | Goddard | 20-Jan-96 | Central FC | Midfielder |
| 14 | Kishun Kirt | Seecharan | 06-Jun-96 | Club Sando | Midfielder |
| 15 | Neveal Irwin | Hackshaw | 21-Sep-95 | North East Stars | Midfielder |
| 16 | Karl Duane | Muckette | 01-Jul-95 | University of South Florida | Midfielder |
| 17 | Akeem Brenton | Humphrey | 25-Nov-95 | Club Sando | Midfielder |
| 18 | Matthew Charles | Woo Ling | 15-Sep-96 | St Anthony's College | Midfielder |
| 19 | Ricardo Enrique | John | 10-Apr-95 | Virgina Tech. | Forward |
| 20 | Kadeem Shaquille | Corbin | 04-Mar-96 | St Ann's Rangers | Forward |

NATIONAL UNDER 20 TEAM – STAFF

DEREK KING HEAD COACH
HUTSON CHARLES ASSISTANT COACH
MICHAEL MAURICE G/K COACH
STEPHEN HART SENIOR TEAM'S COACH
MICHAEL TAYLOR PHYSIO
MICHAEL WILLIAMS EQUIPMENT MANAGER
DOUGLAS ARCHER MANAGER
WAYNE CUNNINGHAM ASSISTANT MANAGER
SARON JOSEPH TRAINER
TERRENCE BABWAH DOCTOR
SHAUN FUENTES MEDIA OFFICER/TECHNICAL VIDEOGRAPHER