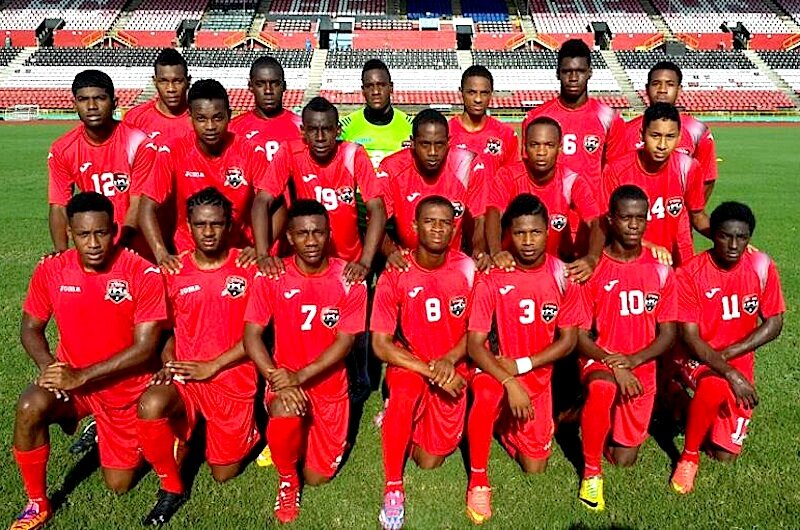 Trinidad and Tobago Under 20 team captain Shannon Gomez says this country will start the CONCACAF Under 20 Championship by approaching Friday's opening game against Jamaica as though it were a final.

Gomez was speaking on the eve of the match as head coach Derek King and his team headed to a practice session at a training pitch located near to the National Stadium in Kingston, venue for the match which kicks off at 9pm TT time.

T&T arrived on Kingston on Wednesday following a short training camp in Miami where they played two training matches against the Westin United Alumni and a US Soccer Development outfit.

Gomez was optimistic saying T&T were in no mood to be push overs. T&T were knocked out in the Caribbean phase of qualification last time around in 2013 during the regional leg in Jamaica as well.

"One of the goals for this tournament, captaining the team as well, is qualifying for the youth World Cup and letting the others know we are not the underdogs in this tournament and that we are one of the big dogs. We didn't come here to lie down to any team," Gomez said.

"We will treat every team with the same respect but on the field of play it's a dog fight out there and we are going after every point. We will go for a win in every game and try to qualify straight to the World Cup," Gomez said.

"The football style of Jamaica is rugged and they run for the entire game. We will go out and treat this game against one of our biggest rivals as a final just like we'll do for every other game," he added.

T&T were crowned Caribbean champions in 2014 but did not face off with the young "Reggae Boyz" who were already through to the CONCACAF Finals as hosts and were not required to contest the Caribbean championship. But a hattrick in the 3-0 win over Haiti in the final by Kadeem Corbin saw T&T lift the Cup in convincing fashion and they will surely want to prove their worth against the home team which is coming off two training games against Cuba, losing one and drawing the other. Jamaica also played against the likes of Peru and Paraguay last month in Venezuela, going down heavily in those matches in which they lost three and conceded 12 goals.

But King is not in the mood to take Theodore Whitmore's team lightly.

"Our approach will be very serious with the mindset of taking three points. Jamaica at home will always be solid and their coach likes to play attacking football. We will be compact and tight in the opening stages but we will not be playing defensively because we want to get three points to start this tournament," King told TTFA Media.

"The mood has been in camp in Jamaica. All the players are fit and available for selection. They are all eager to get things rolling. Like I said before, every game is like a final in this tournament."

The likes of Levi Garcia, Brendon Creed, Duane Muckette and Ricardo John will want to ensure T&T are in top gear while goalkeeper Johan Welch will hope his defense maintains discipline and keep the opponents off the score sheet.

There are two other matches on the cards tomorrow at the same venue with Aruba meeting Panama from 3:30pm and United States and Guatemala clashing from 5:30pm.
The Junior "Soca Warriors" are in Group A along with Jamaica, Aruba, Panama, the United States and Guatemala. Group B includes Haiti, Canada, Mexico, Cuba, Honduras and El Salvador, in order of position drawn. 

The tournament will crown the Confederation champion at this age level, and qualify four teams to the FIFA Under-20 World Cup New Zealand 2015. 

The top team from each group after round-robin play advances to the World Cup, and the second and third place nations from each group advance to the final day knockout phase, with the chance to dispute one of a pair of play-in matches which will determine CONCACAF's other two World Cup spots, as stated by CONCACAF.


T&T Squad
| | | | | | |
| --- | --- | --- | --- | --- | --- |
| Number | First Name | Surname | Date of Birth | Team | Position |
| 1 | Johan Jullian | Welch | 04-Jan-97 | Houston Dynamo Academy | Goalkeeper |
| 2 | Jovan Jerrod | Sample | 13-Apr-95 | Central FC | Goalkeeper |
| 3 | Martieon Clyde | Watson | 13-Oct-96 | W Connection | Defender |
| 4 | Brendon Nicholas | Creed | 10-Dec-96 | Temple Universoty | Midfielder |
| 5 | Jesus Angelo | Perez | 11-Sep-95 | North East Stars | Defender |
| 6 | Shannon Jurmark | Gomez | 05-Oct-96 | W Connection | Defender |
| 7 | Maurice Phillip | Ford | 06-Sep-96 | W Connection | Defender |
| 8 | Leland Douglas | Archer | 08-Jan-96 | College of Charleston | Defender |
| 9 | Aikim Rodney | Andrews | 20-Jun-96 | W Connection | Midfielder |
| 10 | Akeem Ancil | Garcia | 11-Sep-96 | W Connection | Midfielder |
| 11 | Levi Ancil | Garcia | 20-Nov-97 | Central FC | Midfielder |
| 12 | Jabari Anthony | Mitchell | 01-May-97 | W Connection | Midfielder |
| 13 | Kevon | Goddard | 20-Jan-96 | Central FC | Midfielder |
| 14 | Kishun Kirt | Seecharan | 06-Jun-96 | Club Sando | Midfielder |
| 15 | Neveal Irwin | Hackshaw | 21-Sep-95 | North East Stars | Midfielder |
| 16 | Karl Duane | Muckette | 01-Jul-95 | University of South Florida | Midfielder |
| 17 | Akeem Brenton | Humphrey | 25-Nov-95 | Club Sando | Midfielder |
| 18 | Matthew Charles | Woo Ling | 15-Sep-96 | St Anthony's College | Midfielder |
| 19 | Ricardo Enrique | John | 10-Apr-95 | Virgina Tech. | Forward |
| 20 | Kadeem Shaquille | Corbin | 04-Mar-96 | St Ann's Rangers | Forward |