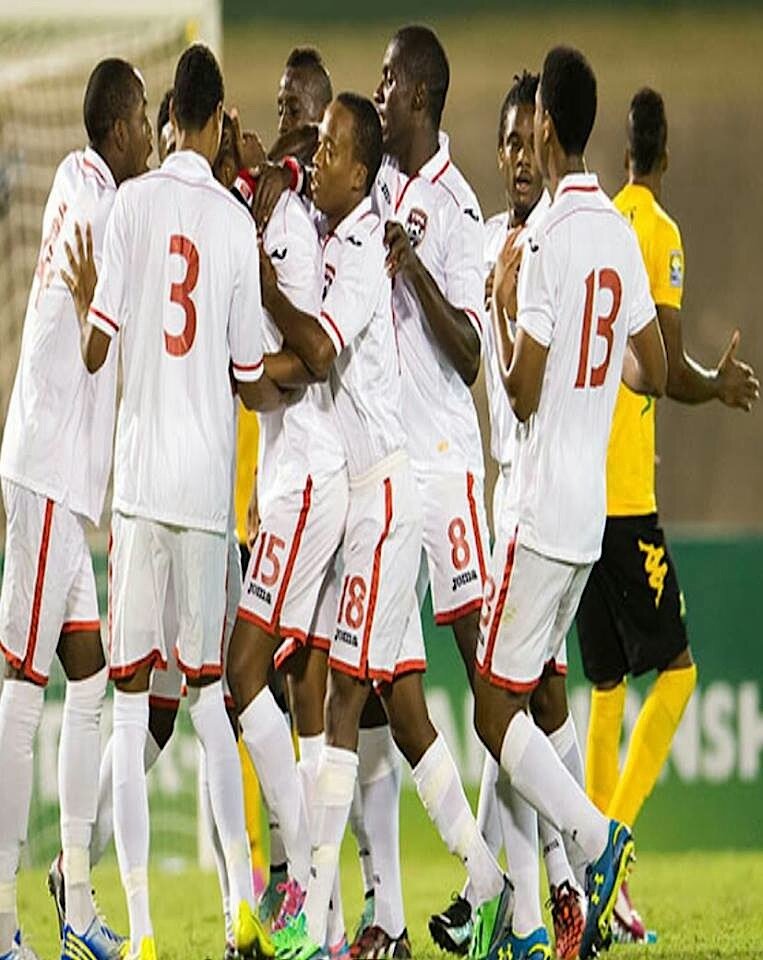 It was Soca dominance for 67 plus minutes but Junior Flemmings and his teammates had the last dance and it was reggae on the turn table as his 23-yard free kick beat goalkeeper Johan Welch in added on time to ensure a share of points between Trinidad and Tobago and Jamaica.

A 2-2 scoreline in their opening CONCACAF U-20 Championship fixture was perhaps an unfitting result as T&T did something that proved difficult in the past, dominating a Jamaican team for large periods and surging ahead in a competitive fixture at the National Stadium in Kingston. (Photo shows T&T celebrating their opening goal/Concacaf)

Watch the highlights here

In 2001, a T&T Senior team decorated with the likes of Dwight Yorke, Stern John, Russell Latapy, Angus Eve and Shaka Hislop outplayed their Jamaican counterparts at the "Office" for big portions of the match only to fall 1-0 to a Tyrone Marshall first half item. This time the "Soca Warriors" were the first one out the blocks with Aikim Andrews firing them to a 6th minute lead with a well taken item. His right footed shot from 35 yards out took a slight deflection on its way into the goal. Before that, T&T had an effort by Akeem Garcia on the left far post saved in the 1st minute

Jamaica could hardly catch themselves and skipper Shannon Gomez and company were buzzing from early on. Kadeem Corbin, the St Ann's Rangers forward who topscored in the Caribbean championships, scored his fourth consecutive competitive goal in two matches. With ten minutes gone, he met Gomez's right side delivery and took a touch with the left boot before using the right to hit past Nicholas Nelson for a 2-0 lead. The "Reggae Boyz" were stunned and T&T were firing on all cylinders and in full control.

As the game progressed, T&T kept shape and were defensively sound, carrying the game to their own liking. The midfield led by Duane Muckette was almost flawless. And this was happening even with one of its more gifted players Levi Garcia on the bench with scorer Andrews starting ahead of him.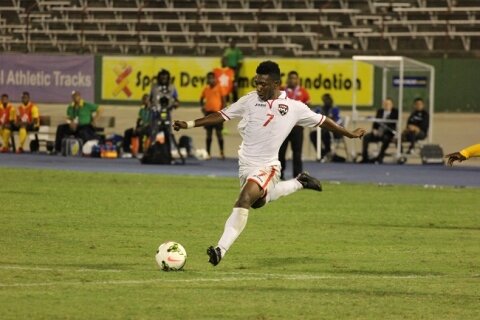 Cobin also had an effort blocked by the advancing Nelson just before the break.

Half time went and the game continued in similar pattern. But T&T failed to capitalize on their dominant play. Keon Goddard had a fine effort saved in the 56th and after a great bit of build up, Muckette spurned his chance, hitting wide of the left post with only the goalkeeper to beat.

T&T still managed to keep their opponents at bay until a soft let up. Donja Smith headed past Welch to pull it back at 2-1 in the 67th and T&T's Johan Welch had to come up big on a couple more occasions as Jamaica's resurgence was evident at that stage.
T&T conceded a free kick near the box in added on time and Flemmings accepted what was indeed a late Christmas gift for the hosts, directing his shot past a stranded Welch in the 94th minute. The goal robbed T&T of a qualifying win for the first time at that venue since Kevin Molino's 13th minute item guided T&T Under 17s to a 1-0 win over the Jamaicans, sealing qualification for the 2007 FIFA U-17 World Cup in the process.

Friday's result left T&T tied with Jamaica on one point, head of Guatemala and USA which tied 1-1 earlier in the game. Panama top the table after day one after defeating newcomers Aruba 4-0. T&T will meet Aruba on Sunday.

T&T head coach Derek King said he couldn't have wanted a better first half start from his men.

"I couldn't have asked for a better start to the match. Goals win matches and we didn't take them but I was very, very pleased with the way the boys handled the game especially in the second half," King told TTFA Media.

"We were very organized defensively and we possessed the ball well.

"I've played against Jamaica and we know the history and it was quite a sight to see how we took control of the game. We did everything right in the first half and parts of the second.

"Of course we're a bit disappointed with the final result. We let up two soft goals and we didn't take our chances in the second half. We could have been like 5 nil up before the came back. I told the guys at half time that we needed to stay disciplined and manage the game and once we won or drew the second half we would get the win. We were good at the start of the second half but then it slipped away from us. We turned our backs on a free kick and they took advantage. But we continued to hold ball possession with a couple changes but then we give away the free kick," King added.

"The tournament is still pretty open with the other results and we'll regroup and come hard again for the next match on Sunday (against Aruba)."

Prior to kick off both teams were met by CONCACAF President Jeff Webb and T&T High Commissioner to Jamaica Dr Iva Gloudon.

T&T will have a recovery session on Saturday before returning to action against Aruba from 4pm TT time at the same venue.

Action in Group A commences on Saturday with Mexico facing Cuba, El Salvador meeting Honduras and Canada clashing with Haiti.

Trinidad and Tobago: 1.Johan Welch (GK); 2.Shannon Gomez (captain), 3.Martieon Watson, 13.Brendon Creed, 4.Jesus Perez; 18.Kevon Goddard (17.Akeem Humphrey 77), 8.Neveal Hackshaw; 15.Aikim Andrews, 6.Duane Muckette (10.Jabari Mitchell 78), 7.Akeem Garcia; 9.Kadeem Corbin (16.Ricardo John 71).
Unused substitutes: 20.Javon Sample (GK), 5.Leland Archer, 11.Levi Garcia, 12.Kishun Seecharan, 14.Matthew Woo Ling, 19.Maurice Ford.

Coach: Derek King

Jamaica: 1.Nicholas Nelson (GK); 12.Roberto Johnson, 3.Jevaun Waugh, 7.Malcolm Stewart, 20.Isamnia Cohen (2.Khalil Stewart 61); 11.I'ishmalle Currie (5.Allando Brown 46), 17.Shaquille Dyer; 10.Junior Flemmings, 19.Cardel Benbow; 8.Daniel Roberts, 9.Michael Seaton (15.Donja Smith 46).
Unused substitutes: 13.Dane Chambers (GK), 4.Rennico Clarke, 6.Martin Davis, 14.John Levee, 16.Shamar Nicholson, 18.Joel Cunningham,

Coach: Theodore Whitmore